Chair of the Review
Donna Ockenden is Chair of the independent review of maternity services at Shrewsbury and Telford Hospital NHS Trust.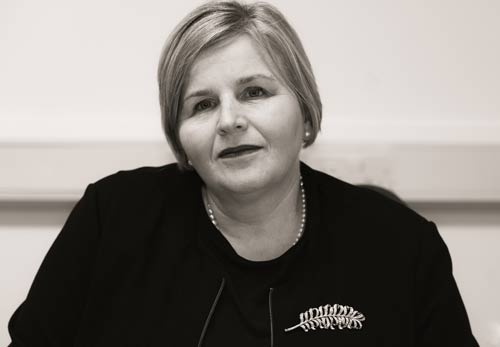 The review was commissioned by the Secretary of State for Health and Social Care in 2017. Originally reviewing 23 maternity cases of concern at the Trust, a much larger number of cases of potential concern have since come forward and the scope of the original review has been extended.
Donna is leading a review team that includes anaesthetists, paediatricians, a physician, an infection prevention specialist, an ambulance expert and a large number of midwives, neonatologists and obstetricians.
Donna is a midwife and a nurse and she has more than 30 years' experience within a variety of health settings both in the UK and internationally. Donna's career spans a number of sectors including acute providers, commissioning, hospital, community and education. For the last 20 years Donna has worked within a number of senior NHS leadership roles including more than five years' experience as Divisional Director of two large Women and Children's Divisions on the South Coast and in London.
Whilst working within the NHS and internationally Donna has also successfully integrated a number of key national and London wide leadership roles. These include:
Current Senior Midwifery Adviser to the Chief Executive of the Nursing and Midwifery Council (NMC) 
Former Trustee and now Patron for MAMA Academy, a charity focussed on 'helping more babies arrive safely.' 
Co Clinical Director (Midwifery) July 2013 to June 2017, of the London Maternity Strategic Clinical Network working with Professor Donald Peebles as Co Clinical Director (Obstetrics) 
London Clinical Network Lead for the Maternity Bereavement Project developing the Maternity Bereavement Experience Measure (or MBEM.) Launched in June 2017, this project was supported and funded by NHS England and developed in partnership with SANDS, the NHS England Patient Experience and Insight team and the London Maternity Bereavement Midwives Forum.